Sharing with the Saints (Rom. 12:13) 
The Deacons' Newsletter Volume II, Number 4
This is the post-election issue of the Deacons' Newsletter. What we don't know for sure, however, are all the results of the election, even at this late date.

But there's no need to fret, regardless of the outcome. I saw a pastor share this verse of Scripture on Facebook from Nebuchadnezzar's dream, and I think it's a good reminder to all of us that everything is in God's control, and that history is unfolding according to His plan: "This sentence is by the decree of the angelic watchers, and the decision is a command of the holy ones, in order that the living may know that the Most High is ruler over the realm of mankind, and bestows it on whom He wishes, and sets over it the lowliest of men" (Dan. 4:17, NASB).

The Westminster Confession of Faith (WCF) reminds us that God upholds, directs, disposes, and governs all creatures, actions, and things by His providence (WCF 5-1). His predestination of all things from the foundation of the world ought to be a great comfort for us (WCF 3-8), for in times of distress, dismay, uncertainty, or even terror, we are comforted that God is with us, and that even events intended for evil are used by Him for good (Gen. 50:20).

I think it is also worth re-reading Question 191 of the Larger Catechism to remember the hope we express when, during the Lord's Prayer, we petition Christ for "Thy kingdom come":

In the second petition, (which is, Thy kingdom come) acknowledging ourselves and all mankind to be by nature under the dominion of sin and Satan, we pray, that the kingdom of sin and Satan may be destroyed, the gospel propagated throughout the world, the Jews called, the fullness of the Gentiles brought in; the church furnished with all gospel officers and ordinances, purged from corruption, countenanced and maintained by the civil magistrate: that the ordinances of Christ may be purely dispensed, and made effectual to the converting of those that are yet in their sins, and the confirming, comforting, and building up of those that are already converted: that Christ would rule in our hearts here, and hasten the time of his second coming, and our reigning with him forever: and that he would be pleased so to exercise the kingdom of his power in all the world, as may best conduce to these ends.

UPDATE ON THE ECONOMY

The present economy is a mixed bag. Unemployment is still high but seems to be declining. Many people are still working from home, and the longer this goes on the more likely this is to become a permanent shift in how we work. Neither the hospitality nor the airline industries have recovered. Passenger traffic through airports is still down about 60 percent from the same time last year. In response, the airline industry laid off an estimated 45,000 workers, and Disney let go over 28,000 people from its theme parks.

After drug company Pfizer announced that its vaccine may be as much as 90 percent effective, the stock markets soared as investors sold off their bonds and their gold and bought up stocks hand over fist.

The 30-year Treasury bond rate has increased from about 1.3 percent to over 1.7 percent since the last issue of this newsletter on July 21. This is not its all-time low, recorded at just under one percent in March for about a day, but this is still an historical low.

On July 21, gold's price was $1,841. It surged 12 percent to peak at its all-time (nominal) high of $2,063 on August 6, and it has since fallen back to trade around $1,865 per ounce. The August 6 high is not the highest gold has ever been when you adjust for inflation, which was in early 1980 when it traded anywhere from $600 to $850–which is almost $2,700 in modern prices after adjusting for inflation.

ECONOMIC RELIEF FOR MEMBERS

I hope everyone has been able to continue to weather the economic storm. If not, I want to remind you about the Midway Member Relief Fund (MMRF). It is a separate account that the church keeps for helping members who are suffering economic hardships while they get back on their feet. The fund is administered by the MMRF committee, which is made up of a pastor, a ruling elder, and a deacon. Current MMRF committee members are:
Pastor – Marc HarringtonRuling Elder – Clay DavidDeacon – John Livingston
All applications to the MMRF committee for assistance are kept strictly confidential. Your privacy is paramount. As stewards of the church's resources, the MMRF committee applies standards of accountability to assure funds are disbursed soundly and appropriately. Part of applying for assistance involves providing a financial disclosure statement and needs assessment to aid the committee in its assistance and oversight.


BUILDING & GROUNDS COMMITTEE UPDATES

The B&G Committee has been busy with updates and church maintenance. Here are some highlights from this summer:
Crack-sealed the parking lotReplaced 10-horsepower compressor motor in fellowship hall A/C unit that failed and repaired 2 othersPressure washed church buildingRemoved dead trees and replaced themContinued grounds maintenanceReplaced gym skylightsRepaired and stained playground equipmentRepaired lift stationReplacing old ballast lights with LED as they failImproved security and safety by adding four new dusk-to-dawn lights
Please let your B&G Committee know of any concerns: contact Joe Hash (check Church Life app for contact info).

MERCY UPDATES

The mercy case load has ticked up since our last newsletter. Our partnership with WIC has been fruitful. Here is the summary:
There have been at least 25 cases since the last newsletter. Each case allows us to bring a powerful witness and make a meaningful difference in people's lives. There have been more than one teary phone call and meeting. Midway's mercy ministry is bringing visitors through Midway's doors most weeks. Deacons on the Mercy Committee present the Gospel to and pray with each family. We have also seen an increased proportion of members and regular attenders. (Graph legend: green are cases we helped, red we did not, and gray is pending committee action)
Helping Reformation Hope – In the wake of Haiti missionary Jean Paul's murder, Midway raised $21,593 from our special collection and offering, which we directed to Reformation Hope and the Paul family.WIC Mercy Ministry Liaison's Note – "As things become a bit more normal (or at least as activity levels rise), we are having opportunities to assist more people – both church members and regular attendees, as well as people from the community. Quite a number of you have been graciously giving of your time, talents, and material resources, to minister to and assist folks who have temporary or ongoing needs.
There are so many ways you can help: by giving a few hours to work in a yard, help clean a house, move furniture, replace a car alternator, fix a broken chair, prepare a meal, offer words of encouragement, give a ride to the doctor's office; or by donating gently-used and no-longer-needed clothes, furniture, or other household items. It is such a blessing to be able to lighten a load for someone by stepping into their lives for a brief period to fill a need and be the hands and feet of our kind and caring Lord.

If you would like to be included in opportunities to be of service to others, please let me know! And keep your eye on the Monday Email that goes out to the church members each week. Current areas of need are routinely included under "Mercy Ministry."

Bobbi Mitchell
WIC Mercy Ministry Liaison
Email: bobbi@semware.com
Text (only): 515/518-0881
Voice (only): 770/428-6525
Projects– Beyond money, Midway's people generously contributed their time and effort to help several families in the congregation with heavy hard work, moving assistance, in-home care, and transportation to appointments. Here are some photos of the action! Thanks to our many volunteers — if interested, let evanda@midwaypca.org know!Prayer Request – Please pray that we would be wise, generous, loving, faithful witnesses of mercy.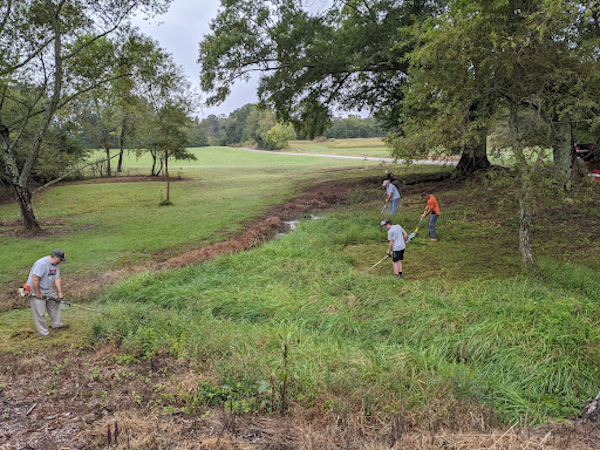 MIDWAY COVENANT CHRISTIAN SCHOOL UPDATES

"For everything there is a season, and a time for every matter under the heaven" (Ecclesiastes 3:1).

The vision for a new Middle School building has been a dream for many years and is now a reality for our Christian School! And at just at the right time, too. The Lord has provided more room for our educational ministry that is certainly needed in this season of social distancing. Our school's upgrade was completed just in time to begin this latest school year. (Pictures below!)

The new space is 5,300 square feet consisting of nine classrooms and multipurpose space. It is equipped with the latest Smart Board technology to enhance the students' learning experience. With this equipment our teachers have the ability to display lesson material to the students in the classroom, and it also supports virtual learning for remote teaching if needed. The students, teachers, and parents are thrilled with the new facilities. We all expect that the facilities will provide a dynamic learning experience and enable students to excel as they prepare for the years ahead.

The benefits of the new space reach beyond the walls of the nine new classrooms. The upgrade will have a big impact on the elementary students and staff, too, as they convert the old middle school area into the computer lab and band room. We hope that, as the old middle school areas are repurposed, the school lunchroom can be expanded.

The school is an extension of Midway Presbyterian Church's ministries, ministering to approximately 300 children and their families. We share in the teaching and strengthening of many young hearts and minds. The multipurpose room in the new middle school area is also used for the Fellowship of Christian Athletes, a ministry with a far-reaching impact. For example, the deacon who contributed this MCCS update came to Christ through the ministry of FCA at his school many years ago! We now look forward to hearing stories of how this school will change some young person's life and impact the world for Christ.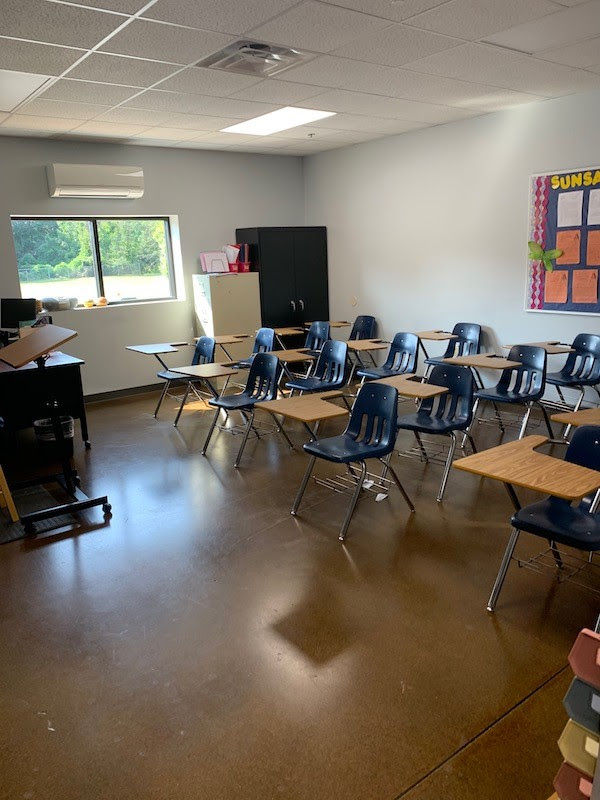 CONCLUSION

Let's be cautiously optimistic about the future. We know it's in God's hands, but let's take responsibility to handle the matters that are within our human control.

First, please prioritize your tithing and giving to our local church so that we may finish the year well and launch into next year with strength. Your sacrificial and faithful giving is a tremendous witness during this challenging economic environment.

Second, focus on reducing spending, saving more, and demonstrating our faithfulness by tithing also our time and talents to church ministries that allow us to spread the wealth the Lord has blessed us with: "He who supplies seed to the sower and bread for food will supply and multiply your seed for sowing and increase the harvest of your righteousness. You will be enriched in every way to be generous in every way, which through us will produce thanksgiving to God" (2 Corinthians 9:10–11, ESV).

For financial needs associated with a job loss, then as the diaconal representative of the MMRF committee, contact either Pastor Marc Harrington, Elder Clay David, or me (contact info in the Midway Church Life directory, or reply to this email).

If you know of other mercy needs (yours or someone you know) or service opportunities, then please contact Evanda Remington, chair of the Mercy Committee, at evanda@midwaypca.org.

If you want to get added to our contact list to be notified of service opportunities as they arise, then please, also contact Evanda.

In Christ,
Deacon John Livingston, Editor